This April will mark four years since Robert (Nil) and I have moved to St. John in the Wilderness. Although our goal in coming here — to build a stone chapel in the wilderness and to live in a simple rhythm of prayer — has yet to be fully realized, we have learned a lot and have made some progress towards these ends.
We came here with the support of many friends, and so have set up this website to connect with the many people we love.
Here is what we have been able to accomplish so far:
Architectural plans by Andrew Gould
Small garden tractor and wagon
Small excavator
Cement mixer that works on the back of the tractor
Saw mill
All of these things have been paid for. Other items we have accumulated for the project:
About 35 logs

Many  board feet of lumber
In addition, we have two cherry trees, a plum tree, three apple trees, and a hazelnut. We have blackberry bushes and raspberry bushes. I have been canning more than enough fruit for the winter. We also fill our root cellar each fall with potatoes, carrots, beets, onions, parsnips, and cabbages from a local organic farmer. We have a fenced-in garden plot that we are trying to improve so that we can produce more food ourselves, too.
We heat totally with wood that so far we can find in our neighbourhood., and we use solar panels for electricity, with a generator for backup.
We are both employed, Robert as a full-time nurse and myself part-time as a facilitator for the Nobody's Perfect Parenting Program and for Parent-Child Mother Goose. As a result, we have made strong connections in the community.
We have connected to the Orthodox community as well. We participate at St. Aidan's Orthodox Church, which is five hours away (!) Some of the young adults from St. John of Shanghai in Vancouver and All Saints in Victoria have come out for extended visits.
We have set up part of our house as a temporary chapel where we pray morning and evening prayers with our guests. We sometimes have prayed typica service there on Sundays when we cannot get out.
Our property includes two independent cabins where visitors stay. Each has its own wood stove for heat and a sink for water when the weather is warm. Each also has an outhouse. We hope someday to be able to afford composting toilets and we have plans to build a bathhouse where people can take a warm shower.
I hesitated about setting up this website for quite a while. However, many Orthodox friends insisted that a website is how we can let people know what we are doing. We know we cannot depend on ourselves alone if we are to accomplish this task.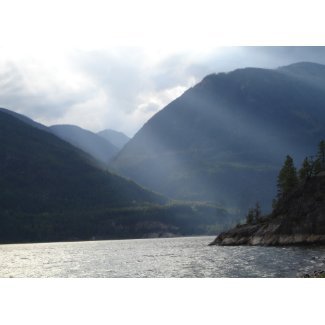 Light Shines Through the Clouds
by
sheilamarie78*
As a first post, this is the bare bones of what we are about. We will give a more immediate impression of what our life is like here as we go along. I hope to post pictures and a brief update every week.